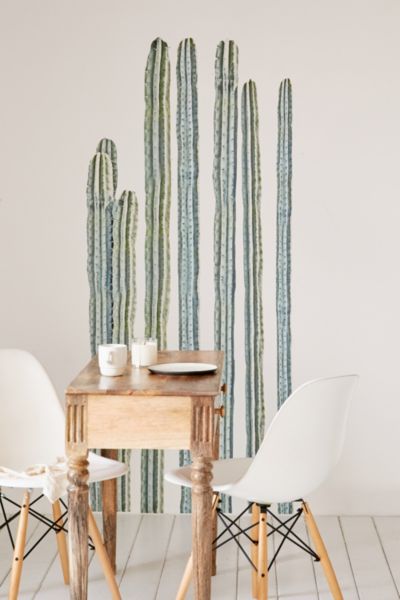 I've written a few times about my recent conversion to house plants and making a terrarium with my first little cacti friends was definitely a breakthrough moment. I've been seeing these prickly little plants popping up all over the place on Pinterest recently – both real and pictorial – so I thought it would be fun to do a round-up of the cacti trend in five prickle-free buys.
First up is this amazing large-scale cacti wall decal from Urban Outfitters (above). At 9ft tall it would be perfect in an alcove, at the end of a hall, or even as a headboard behind the bed. It even comes with a set of little detachable succulents which you can add wherever you like. The bad news is that this one's only available to ship within the USA, so if you're a UK reader you'll need to rope in a friend across the pond to take delivery of it for you and send it on. It costs $78 for all nine stickers.
I love this idea. This cacti embroidery is an example of one you can sew yourself as part of Sarah K Benning's Pattern Programme. It's essentially an embroidery sew-along which you sign up to via her Etsy store. Enrol for between 1 – 12 months and each month you'll be sent a new pattern and instruction booklet to download, all of which are suitable for beginners.  Sarah's signature style focuses on natural elements so expect to receive patterns including minerals, cacti and houseplants, wild flowers, lunar phases, and minimalist seascapes. If you're feeling crafty, pop over to Sarah's Etsy shop to subscribe or visit her website to find out more about her beautiful work. One pattern costs £14 or £126 for all 12 over the year.
I love terrariums for housing my little cacti pets (as I like to think of them). This one can either be displayed on a shelf or hung up at eye-level where it can be best appreciated. It's part of a collection of lovely handmade terrariums from Decorator's Notebook and I recently wrote a handy blog post on how to make a terrarium with cacti or succulent plants. This hanging terrarium costs £28.95 and there are smaller ones too for £14.95 (ships to UK, USA and Europe).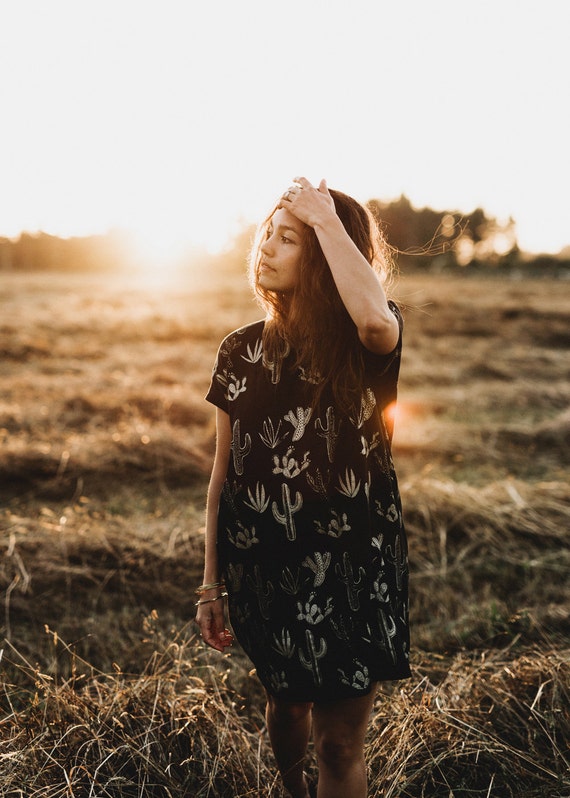 This gorgeous black and gold tunic is part giant t-shirt, part dress, designed to be comfortable and effortless to wear. The fabric is hand screen-printed by American clothing designer Sara Barrett who sells worldwide through her Etsy shop Simka Sol. Sara makes her clothing in an environmentally-aware way, even using natural sunshine to expose her printing screens instead of artificial UV light. If you love this cactus print dress (£53.75) there's also a boxy crop top (£45) in the same design.
Finally, I want to show you these cactus cushions by British designer Michelle Kreussel. Michelle lists her artistic influencers as Frida Kahlo, Vincent Van Gogh and Beatrix Potter, a blend that sounds rather odd until you see her love of jungle plants, swirling ice-cream colours and delicate watercolour style. These cactus cushions can be bought from her shop The Fox In The Attic individually (£18), although I think you'd be hard-pressed to resist one of each to display all in a row.